Suzzie's CRF250X
---
Well, here is my new ride... I brought him home on March 9th, 2004 from River Front Honda in Gallipolis, OH. His name is Charlie Runs Fast. All my 4 strokes are guys, my 2 stroke was a gal. Unfortunately, I still have my 2 stroke, but she's for sale. She's a 1998 CR80RB, fresh top end, if you're interested. :D

Here are a few views of my baby: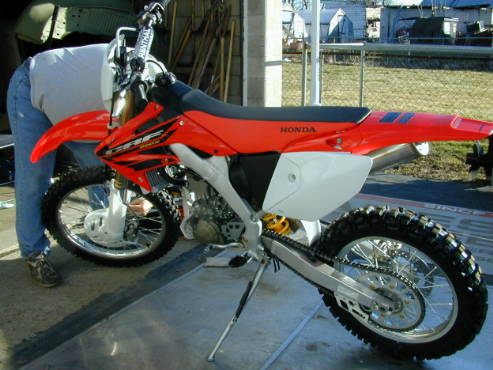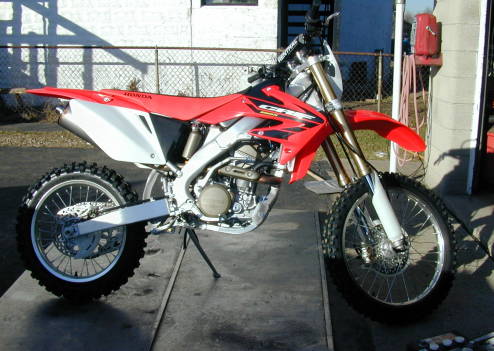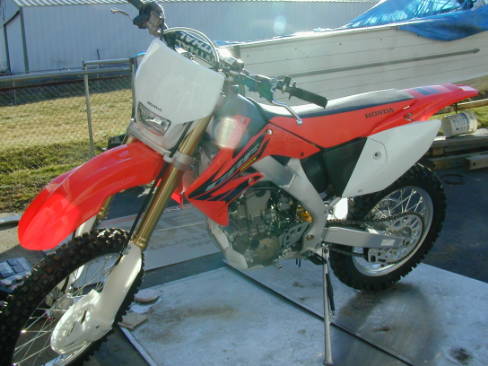 Now, there are no short dirtbikes of any kind that have a great amount of power. I was in a hard place, because while I do love 4 strokes, I loved the get up and go of the 2 stroke. The compromise was a racing 4 stroke. Since Yamaha makes their bikes tall enough you need a stepladder, I opted for the new CRF250X, which among other things, is really light and has e-start. However, it still was a good 3"-4" too tall. So, it was sent to AAT Performance Products and Engineering. For the mere price of $431, they agreed to put in softer shocks and cut a ring or more off to give me the same spring tension, but a reduced height.

Unfortnately, we don't have a real bike stand. We usually use a chair. Charlie didn't want to sit on the chair though, so my "friends" decided to improvise. This is our hillbilly bike stand: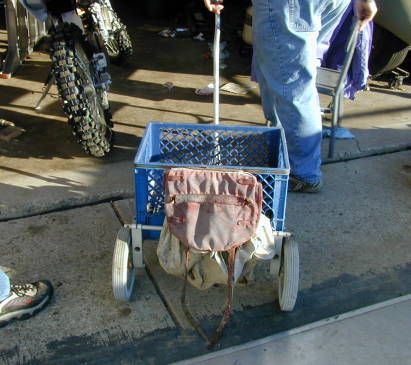 I cringed. I think Charlie did too.Anyhow, here's how it worked: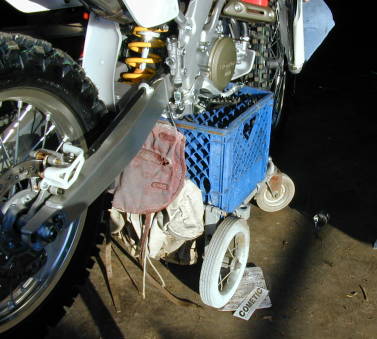 It actually worked really well and we were able to just pull the bike whereever we wanted it to be. But still, I cringe. I think I might buy a proper stand. Because that's just really sad. Putting an expensive bike on a milk crate!

If you ever wondered what a CRF250X looks like without most of its parts, here ya go, what it looked like after we raped it of its shock and forks: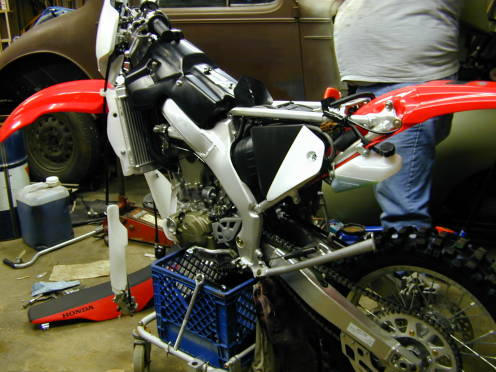 All to get these parts!! (ignore the muffler)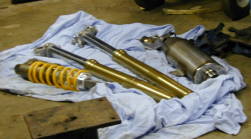 I'll keep the page updated with what it looks like when the suspension gets sent back... the guy has a two week turnaround time, which should work out just right for the opening of the trails on April 1st! It's great because it's a reversible process. I think the bike is gonna look stupid, but at the same time I don't care, because it is an awesome bike and it's not my fault the manufacturers think everyone is seven feet tall!

That's all for now, folks!