These are our current and future breeders. The parents of the current clutch are listed on the breeding journal page.


Captain
Captain is a 5 year old normal grey split pearl cockatiel. He is a solid 100 grams, and a very beautiful bird.
Scrambles
Scrambles is a 5 year old normal grey cockatiel. She is a very small bird, usually weighing about 78 grams. She is an excellent mother.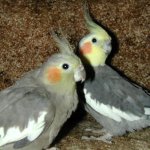 Etcetera
Etcetera is a chick from Captain and Scrambles. She is an exceptionally gorgeous cockatiel. She and Darwin will be set up again, possibly in December.
Darwin
Darwin is a whiteface split cinnamon/pearl/lutino/yellowcheek. When bred with a grey, he'll produce cinnamons, pearls, lutinos, and yellowcheeks. He was purchased from a breeder in Michigan. He is an extremely good whistler and he talks as well. His current mate is Etcetera.